Izu Hakone Discount Coupons with map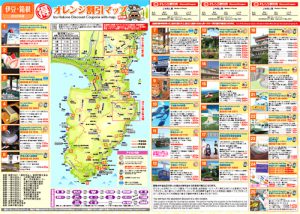 Click on the letter to display the page for details and discount.
For red text facilities, you need printed discount map. You can get at Tourist infomation. Or major hotels.
Printed PDF is also useful.
For blue text facilities, You can get a discount for showing the screen of your smartphone.
Izu area
01 Kanefuku mentai park izu
02 Ichigo plaza Rest area of izu Central way
03 Yunokuni-kaikan spa
04 Toi gold mine
05Koganezaki Crystal Park
06 Izu Chohachi Art Museum
07 Kannon Principle spa
08 Shimoda Histroy Museum
09 MOBS The Museum of Black Ship
10 Shimoda Floating Aquarium
11 Izu Cruise
12 Shimoda Ropeway
13 Kawazu Bagatelle Park
14 Odawara Suzuhiro Enoura Shop
15 jukkokutoge Cable Car
16 MOA MUSEUM OF ART
17 Atami geigi performance house
18 Atami Hihoukan(Hidden treasure)
19 Atami Castle Museum & Trick art museum
20 Cycle sports center
21 Bell Cruise Ito at Ito Marine Town
22 Glass Boat at Ito Marine Town
23 Seaside Spa at Ito Marine Town
24 Izu Glass Art Trial Class
28 Izu Animal Kingdom
Hakone area
26 Hakone lalique Museum
27 The Little Prince Museum
28 Hakone Venetian Glass Museum
29 Pola Museum of art
30 The Hakone Open-air Museum
31 Hakone Museum of art
32 OKADA MUSEUM OF ART
33 Mt.Fuji & Lake Ashi view from onsen RYUGUDEN
34 Hakone Komagatake Ropeway
35 Hakone-en Aquarium
36 Ninja Bus Water Spider
37 Come play our animals!! You'll Have a Lot of fun!! Dakkoshite ZOO
38 Hakone Doll House Museum
39 Narukawa Art Museum
40 Hakone Ekiden Museum
41 Suzuhiro Kamaboko no sato
Izukogen area
42 Izukogen Staindglass Museum
43 Ikeda Museum of 20th Century Art
44 The Maboroshi Museum
45 Cui Ru Zhuo Art Meseum
46 Izu Shaboten Zoo
47 Izu Granpal Park
48 New York Lamp Museum & flower garden
49 Wax Doll Museum
50 King of Pizza
51 Izukogen Animated Clock Museum
52 The cat museum
53 The Ayashii museum
54 Nosaka Automata museum
55 Antique jewelry museum
56 Kenny's House café
57 Izu Teddy Bear Museum
58Music Box Museum of Izu
If you go to the red text facility below, you must print a discount map or get it at the hotel or Tourist information.